Archiving
Archiving is the process that moved completed (delivered, no show, cancelled, etc) trips out of Easy Rides and into the Easy Rides Utility for reporting. Reporting is not something that can be undone, so there be careful when archiving. Depending on your systems reporting needs you can archive each day, or as infrequently as once a month.
To start the archive process, open the Easy Rides Utility and choose Move Trips to the Archive.

A warning will pop up reminding you that no one should be working on the day schedules that you are about to archiving. This is to prevent trips for accidentally being duplicated.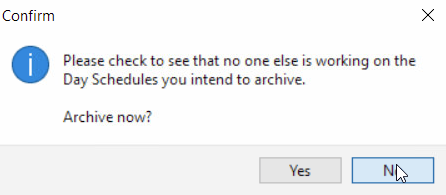 If you are certain no one will be working on the days you will be archiving, click Yes.
Archive Form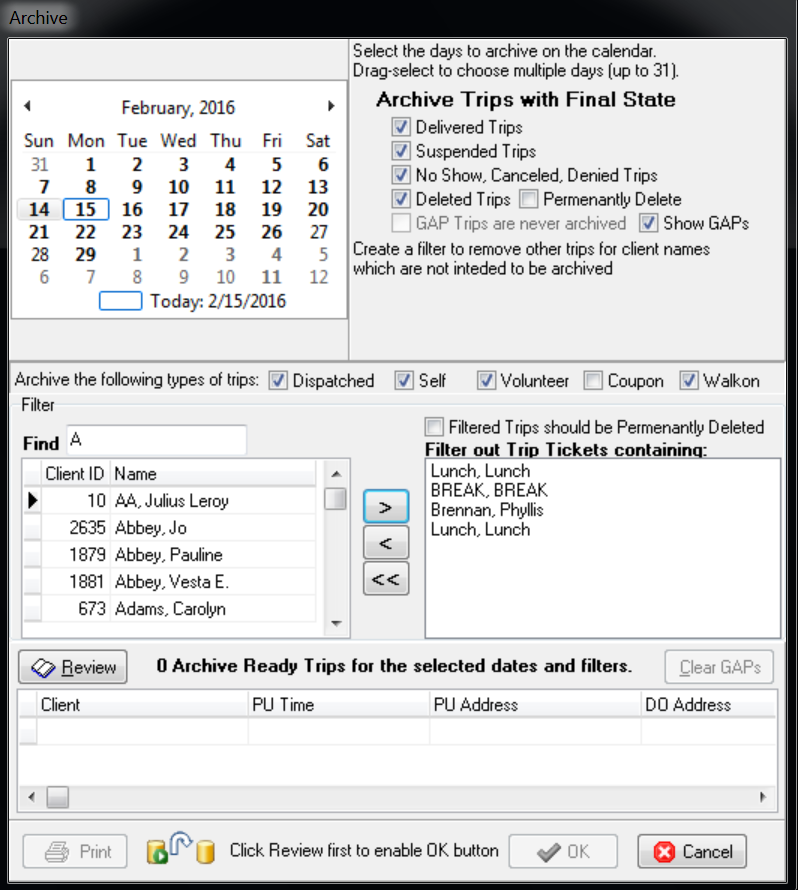 There are a number of options on the Archive form, to allow flexibility in which trips are archived.
The top section has a date selector. This allows you to select one or more days to archive. Days with trips eligible for archiving with show up in bold. Click and drag to select a range of days.
Next to the calendar are options for what trips to archive. The default options are usually best, however, if you have GAP trips, you may wish to check the Permenantly Delete check box, as this will get rid of GAP tickets that you don't want to stick around. Most ofthen you would want to check this box if you have GAP tickets that are used as place holders, such as START, END, BREAK or LUNCH tickets.
The middle section of the form has a filter feature. On the left is a searchable list of clients. You can use this to find client records you are using as dummy or placeholder records, then pres the arrow buttons in the middle to select thos clients and they will move to the lift of trips to be Filtered out on the right. These trips won't be archived. This list is persistent, meaning if you set up the list once, it will be remembered the next time you come to archive.
Just abov the filter is a list of trip types to be archived. Unless you have a peculiar billing process, you can leave all the check boxes checked. If you want to only archive Walkon Trips, you would uncheck the other options and archve.
Below the Filter section is the Review button. This is you last chance to double check you have chosen the right settings. Click the Review button and it will show you how many trips are about to be archived. Pay attention to this number, if you intended to archive one day but 5000 trips are in the list, you might need to go back and verify everything is right.
Once you are sure everything is ready, click the OK button. A progress bar will appear as the trips are archived and then the window will close. You are done archiving and the trips are now in the Utility instead of Easy Rides.
Trip Audit
If you are using the Trip Audit feature, a dialog will appear after you finish archiving, asking if you want to Delete TripAudit records over 90 days old. This is to keep the size of the database from becoming too large, and it is best to answer yes, unless you need to keep these records for longer.

Deleting Old Day Schedules
Once you have archived, you can also choose to delete old day schedules. This removes day schedule tabs from the top of Easy Rides, making room for current and future days. It is important to make sure all trip tickets have been archived on a day before deleting it.
Choose the Archive -> Delete Old Day Schedules menu. You will be presented with a similar warning about only deleting day schedules that no one is working on. (If someone is working on a day schedule you are working on, they will be moved to the most recent non deleted day schedule the next time their system refreshes.)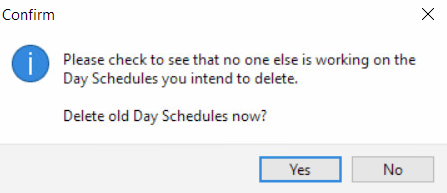 Next you will be presented with a list of days that could be deleted. Check the ones you wish to delete and press OK.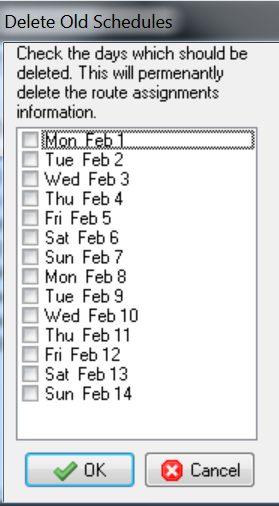 If Trips have not been archived one of of the days you choose to delete, you will be warned, and given the option to not delete that day. If this happens, go back to Easy Rides, finalize all trips and archive them before proceeding. If all trips have previously been taken care of, then clicking OK will remove the old day schedules and the window will close.