Driver manifests
There are multiple format options for driver's route sheets, commonly called manifests. Easy Rides has at least 14 different designs of driver manifests already programmed. There is also the capacity to design your own driver manifest using MS Access. To access the Driver Manifests, open the Dispatch Board, then Right Click on a Route heading, and Select Print Manifests. This opens the Print Manifests window.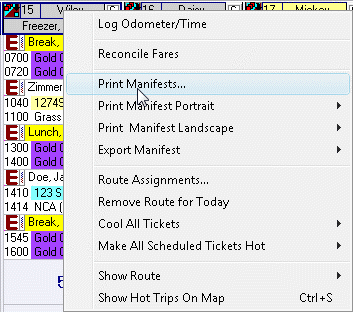 Select the Pre-Formatted tab.
Choose the type of manifest you want printed.
Select the driver(s) you want to print manifests for.
Click the Print button.
Easy Rides remembers the most recent selection of manifest that you made. Once you decide the type of format that you will use, you will only have to select the format once, unless you choose to change manifest type you are using.
Using the option that says "Print Manifests…" is the best option if you are going to print manifest for more then one route.
The choices of Print Manifest Portrait or Print Manifest Landscape allow you to print the manifest for only one driver at a time.
It is also possible to export manifests to other formats including MS Access, Rich Text Format, and Tab delimited format. This would enable you to produced customized manifests, send manifests via e-mail or manipulate manifests in other ways.
Personnel Qualifications and Events
For more videos on Personnel qualifications and events click here.
One of the most valuable resources for quality transportation is great drivers and dispatchers. EasyRides has several tools that enable transportation providers to keep important information about their personnel and provide alerts to remind system managers when certifications or other documentation is due. This section can be found by the following: From Easy Rides Utilities: Click on Admin, Personnel & Vehicles then Personnel Events.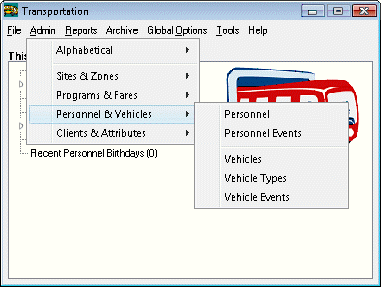 Qualifications will need to be tailored to each system's unique needs. An event is defined as the date when documentation for a driver needs to be in the office. For example:
The date that the driver's renewed commercial driver's license is due,
The date when passenger assistance training was completed, or
The date when the driver was fully inoculated against hepatitis
Below is a screen shot of event codes for a transportation system.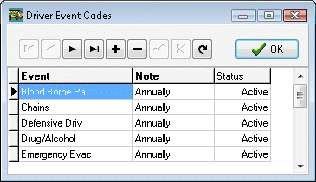 When you first see the Qualifications screen it will be empty of data. Use the "+" key to add a new line for each event drivers will need to have documented. By completing this step you will then be able to have meaningful choices when you start to key in the information on each particular person. Remember to add more events as regulations change and to update the dates due for events once they've been reached.
For example, once you have proof that the driver has renewed the CDL, you need to put a date in the person's record that will show when the CDL renewal is next required.
Adding Personnel
Once you have defined the items you want to be reminded about with drivers, you are ready to input information about the drivers on their Driver/Volunteer Record.
To access this feature: From Easy Rides Utilities, click on Admin, Personnel & Vehicles then Personnel.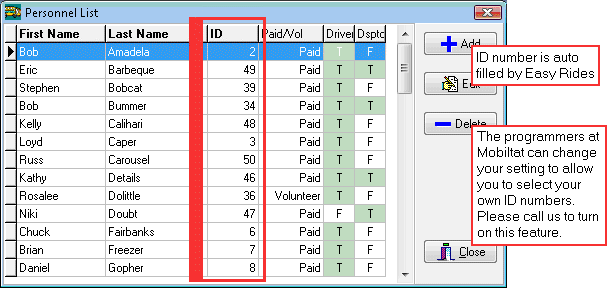 You may have much of the information that is needed collected in personnel files or volunteer files. Sometimes this data is in many different files.
The Personnel record (below) allows you to enter information on all personnel including drivers, dispatchers, schedulers, customer service representatives and volunteers. This part of the database is where you will also designate passwords for staff allowed to access the program. Simply place a check in the box next to Dispatch. When the staff person logs in for the day, they will choose their name on the Dispatch Center. Activities performed by this person on trip tickets will be recorded for future reference.
To enter a staff member click add. The following screen will be displayed.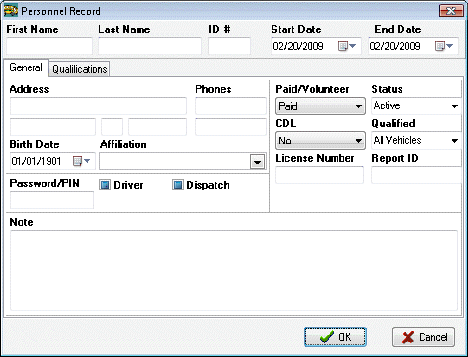 There are two tabs on the screen: General (displayed above) and Qualifications. Please note: the password section of the Personnel record is only recorded in this one spot and cannot be accessed easily. It is important to make sure system administrators are aware of passwords for all employees.
Personnel Qualifications
The second tab of the Personnel Record includes the qualifications associated with event codes. Click "Add" to add qualifications for the person. As you can see in the drop down box below, the qualification list contains the same elements as the driver event codes. Complete the information for each person including all their qualifications, qualification expiration and the date an alert is to appear in EasyRides reminding of the expiration.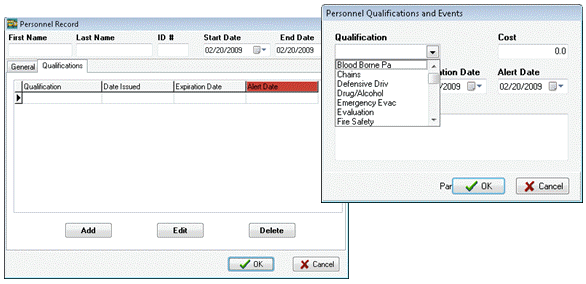 Once completed, each person will have the information documented to make sure they have the requirements to do the job. A list of the qualifications and associated dates will appear in each person's record.
When an event comes due, a notice will appear on the EasyRides Utility board when a user first signs in. The Driver Event alerts will display on the screen (see sample below) until the dates for the event are changed.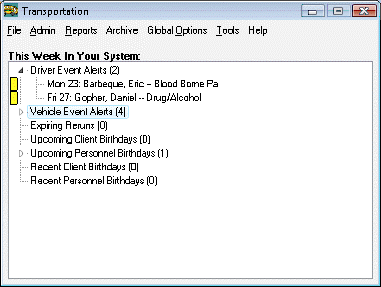 Routes
For more videos on routes click here.
To Easy Rides, a Route is a set of trips. That set of trips can be assigned to any bus and driver. You should avoid naming a route after a bus, in case that bus becomes unavailable. You should also avoid using names for Routes that describe the route service area, in case the route evolves over time. Routes should be given abstract names such as sports teams, fictional characters, music groups etc. This will make changing routes, buses and drivers less confusing by avoiding conflicting names. ### To Set up Routes
From the Easy Rides Utility, click on Admin, Programs & Fares then Routes.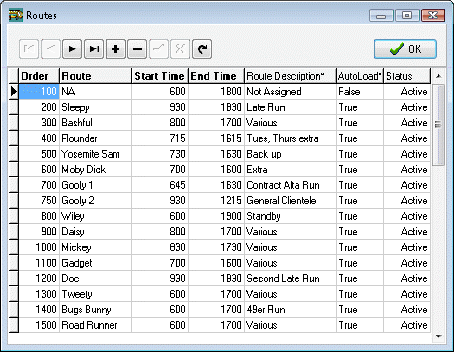 "NA" should always be the first item in the Route Table.
"REQUIRED" should NOT be included in the table. Easy Rides will always require either "NA" or a Route Name.
In the example above, the transit system decided to name their Routes after fictional characters.
Each Route must have a start and end time. Routes can be given a min of 1, representing one minute after midnight to a maximum of 23:59, representing one minute to midnight. Easy Rides will flash a pop-up message should you try to schedule a ride prior to the routes start time. Easy Rides will also flash a pop-up message should you try to schedule a ride after that route has finished for the day.

Route Auto Load & the Dispatch Board
The AutoLoad feature tells the dispatch board to automatically load the route each time a dispatch board is opened. The default of this field is True. If the route cell is changed to False, then the dispatcher has the option to load that route only on the days that route may be running. For example you may only have R-9 running on Saturdays. More information will be available on this topic in the Dispatch Board section of the manual.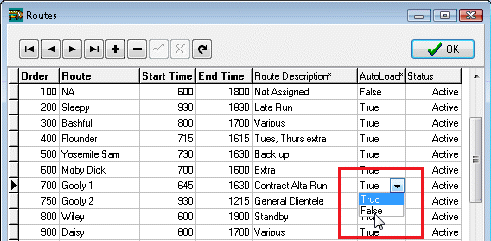 Vehicles
For more videos on XX click here.
NOTE: We use the words "Vehicle"- and "Bus" are used interchangeably here.
Easy Rides associates buses with drivers and trips. One of the important features of the software is the inclusion of cross checks of the data that insure a scheduler does not assign an individual to a bus that is inappropriate for that individual. For example, a warning message will display if a rider, using a wheelchair, is assigned to a bus lacking any wheelchair stations.
In this portion of the Utility software you will set descriptive information about your buses. This includes passenger capacity, VIN numbers, and much more. Many system managers find this information to be a helpful resource when there is a need to reference insurance information.
To Enter Data about Buses
From the Easy Rides Utility, Click on Admin, Personnel & Vehicles then Vehicle Types. The different types of vehicles are entered here.
RECOMMENDATION
NA can be included as an option for unusual circumstances.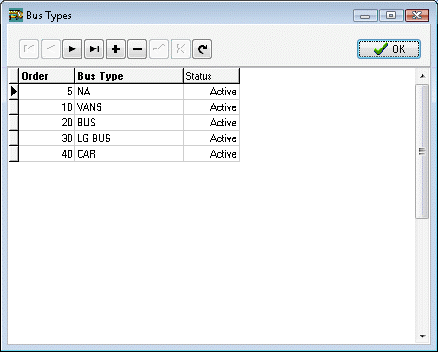 Click on Admin, Personnel & Vehicles then Vehicle Events, then enter all the vehicle events you want to keep track of.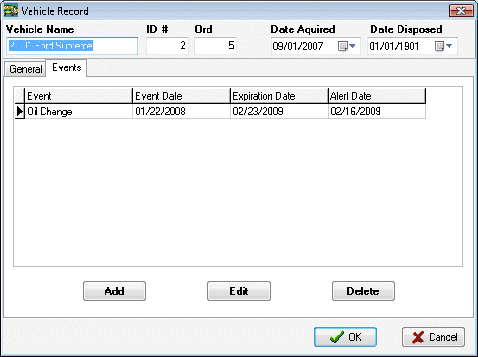 When your vehicle events are entered, click on Admin, Personnel & Vehicles then Vehicles. Use the Vehicles Table to input each bus you operate in your system.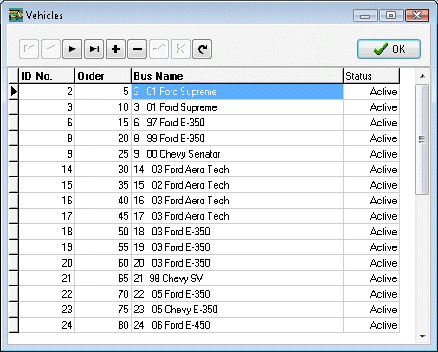 Data to Complete Bus Worksheets
Vehicle Name
Maximum Capacity
Minimum Capacity
Maximum Wheel Chair Capacity
Minimum Wheel Chair Capacity
Date Acquired
Date Disposed
Date available for operation
MPG
Fuel capacity of the vehicle
Bus Type
Vehicle License Number
VIN
Notes
Whether the status is active or inactive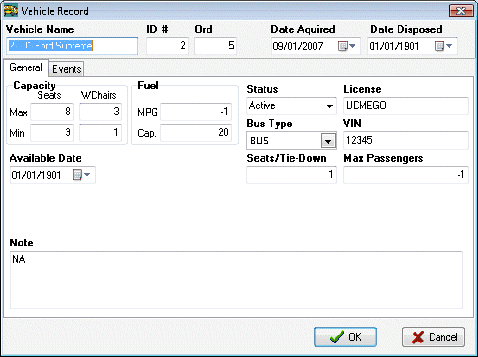 Please note, it is preferable to make a vehicle inactive rather than delete the entire vehicle data. Since trips provided are assigned to a vehicle, if a vehicle's data is deleted, all associated trips provided will be inaccurately reported. Also note that you must fill in vehicle capacity fields in order for Automated Scheduling features to be enabled.
The Events tab displays upcoming events for the vehicle.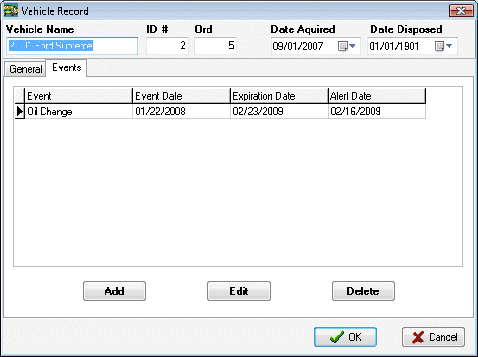 When an event comes due, a notice will appear on the EasyRides Utility board when a user first signs in. The Vehicle Event alerts will display on the screen (see sample at right) until the dates for the event are changed.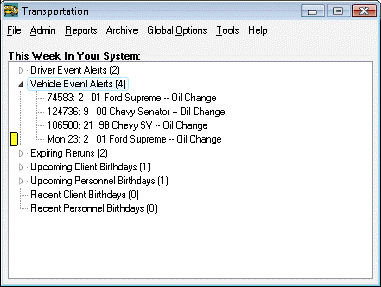 Easy Rides User Security
Easy Rides has two levels of security, Administrator and User.
When the Logon screen appears for the first time select:
User Name: Administrator Password: blank
You can change the password for a user by clicking the padlock button next to the password field, once a correct password has been entered.
In the Utility under the Admin -> Alphabetical -> Personnel menu, you can add users. Each user can have a password if they are configured as an agent. Once the agent check box is checked, a Roles tab will appear allowing to you choose what parts of Easy Rides the user will have access to. The password field on this screen configures the password. This same form is used for configuring driver passwords to allow them to access the electronic driver manifests via tablet.