Understanding Easy Rides Geography
For more videos on setting geography related attributes click here.
Defining Service Boundaries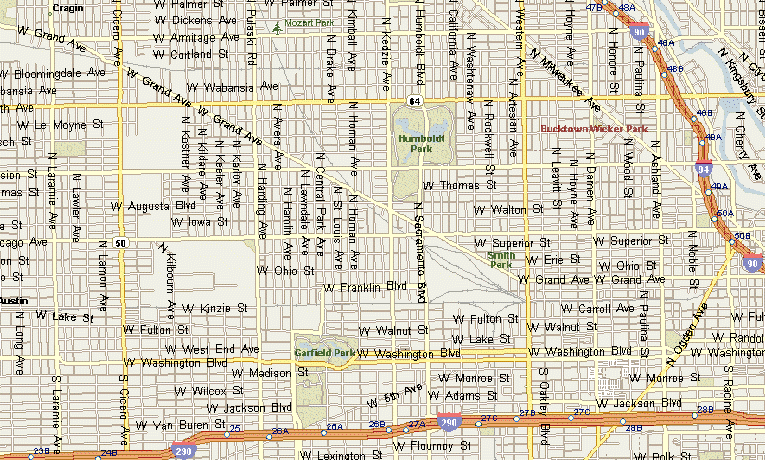 When people first traveled there was no reason for maps. People just followed the food. Later, they didn't use maps because there weren't markers or tools to determine placement. Perhaps you haven't needed a map with your transit system. It may be "we serve the city" or it may be that you and your drivers just know where to go. But a computer is much simpler. It does not know what you know.
Mobilitat staff will work with you to identify your service area on a map. Consider:
What is the farthest you will go in delivering trips?
Are there places where you may deliver riders, but not pick up riders?
Does your organization's charter or letters of incorporation define the service area?
Is there service outside of the boundary, for example, might you serve ¾ of a mile outside the city limits?
All the transit system – This would include all places that the transit system goes. It could include multiple jurisdictions, cities, zones and sites. Some systems may serve just one city or community; others may operate in multiple cities, towns, and counties. If no geographic subset is specified for reports all rides provided by the transit system are displayed.
Jurisdiction
You will define jurisdictions which are used in reports. A jurisdiction could include multiple cities, zones and sites. This may be a county or a congressman's district. Every transit provider will have at least one jurisdiction. It could be as simple as "Our Service Area" or "Sweetwater County". Jurisdictions are helpful for reports on a geographic area that may have multiple funders. A county government wants to know the number of trips for local residents, or a system wants to report on rides within a congressman's district for funds to buy buses.
City
An area defined by local and state officials with a legal boundary. A city could include multiple zones and sites. Cities are always included in the address of a client, but some client's actual location may be outside the official borders of the city though their mailing address includes that city's name.
Zone
A collection of geographic sites which are color-coded for the dispatch board. This is an approximate area that one bus would cover geographically during normal daily operations. Zones are used to help dispatchers schedule trips, and get the closest bus to the rider. #### Site Sites are the smallest geographic element described in the software. One or more sites are combined together to make zones. In urban areas a site might be the distance it takes the bus to travel in about 5 minutes, in less densely populated areas a site may be an area driven by a bus in 20 or more minutes. Sites are used most frequently when the transit provider has automated dispatching.
Adding Cities and Zones
Adding Cities and Zones See Also
The zones and site tables require planning and much discussion. Please take the time to understand this process with your trainer. Correctly identifying sites and zones will help your system save time and gas in the future.
Cities
Open Easy Rides Utility, click on Admin, "Sites and Zones" then Cities.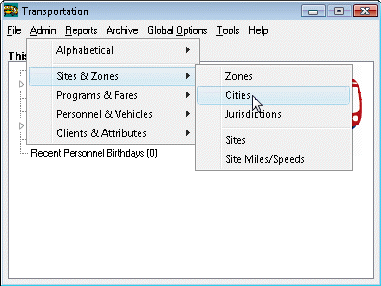 Click on the Plus sign and an empty row appears
Enter an order number (see notes above in Chapter 3 "Items common to all tables").
Enter City name and State.
Make sure that "Active" appears under the Status Column.
After you have entered all the Cities, click the OK button to post all the items just entered into the data base.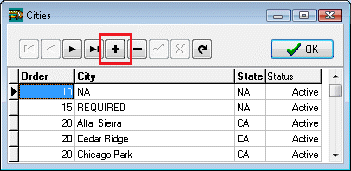 RECOMMENDATION: Mobilitat suggests you have the first row designated as N/A for non-ride tickets which will be discussed in the Easy Rides Manual.
Zones
Click on Admin, "Sites and Zones" then Zones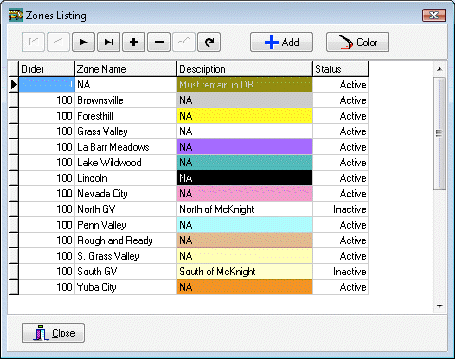 The Zone table is shown above. Zones provide color coding for geographical areas.
RECOMMENDATION: "REQUIRED" should not be included in this table. Assure that NA is included as the first option for Zones.
As each zone is added, select a color from the palette on the right or click inside the "Background" field to display the color button. Clicking the color button offers additional color choices.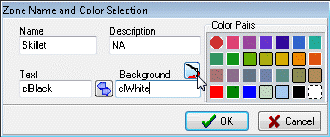 Zone colors can be changed at any time. Generally zones with a pastel back ground and dark lettering are the easiest to read for the majority of the population.
Zones that you would like to stand out might be a dark color with white print (for instance, a zone that has you traveling a great distance). All rides to that site should be carefully considered and coordinated.
Adding Jurisdictions and Sites
Jurisdictions are a way to group sites together for reporting purposes. For example, you could assign site A, B and C to Jurisdiction: Buchanan County, and sites D,E and F to Jurisdiction: Wayne County. Then you can run reports based on jurisdiction.
For example, if Green River and Rock Springs are both in Sweetwater County; the Mayor of Rock Springs may want a total of all the rides given in Rock Springs and the Mayor of Green River will request a total of all the rides you do for the City of Green River. If you want to get funding from the Sweetwater County Commissioners, you will need to be able to give them a list of all the rides originating or ending in all other areas outside the city limits of Green River or Rock Springs.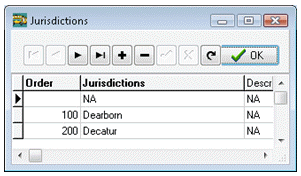 RECOMMENDATION: Include the option of having NA in this table.
Entering Jurisdictions
In the Easy Rides Utility, click on Admin, "Sites and Zones" then Jurisdictions.
Entering Sites
In the Easy Rides Utility, click on Admin, "Sites and Zones" then Sites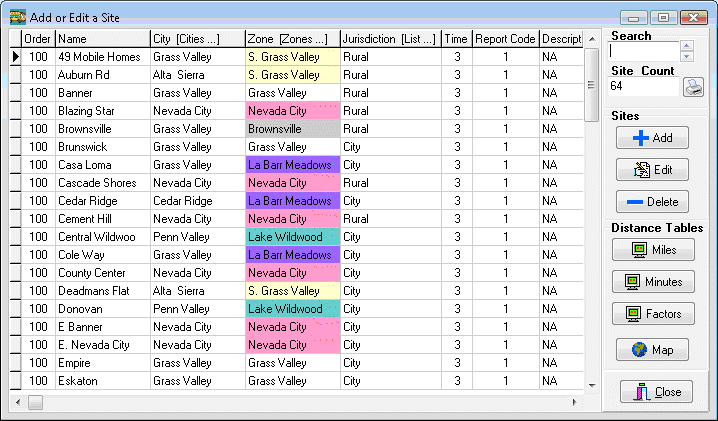 Each Site must be associated with a City, zone and Jurisdiction.
RECOMMENDATION: REQUIRED should not be listed as an option. NA can be included as an option for unusual circumstances.
After you set up Easy Rides, and your business grows, you may have a change to the geographic area you serve. You need to make sure you not only add any new city but that you also associate that city with a new site and choose zone and jurisdiction from the "Enter Site Information" screen. Once you have input these relationships your reports will accurately reflect the trips you have provided from the expanded service area. If you do not set up the relationships of new city, new site, zone and jurisdiction your reports will be inaccurate.