Funders
For more videos on Reimbursement click here.
Funders are agencies, organization and individuals who fund each ride. Funders are accessed through Easy Rides Utility Software. Descriptive information about each Funder includes addresses, phone numbers, contact information and much more. Many system managers find this information a helpful resource when needing to contact a funding source and as a reminder when the contract renewals are upcoming.
To Enter Data on Funders
Enter Easy Rides Utilities then Click on Admin, Programs & Fares then Funders. Typically you need to send reports to these funding agencies letting them know the number of rides you provided for them. Some agencies require not only the number of rides you gave to their clients, but confirmation they went and the days their clients rode. Tt is easy to add a funder, and just as easy to make a funder inactive. Do not delete funders, or you could risk the accuracy of your data.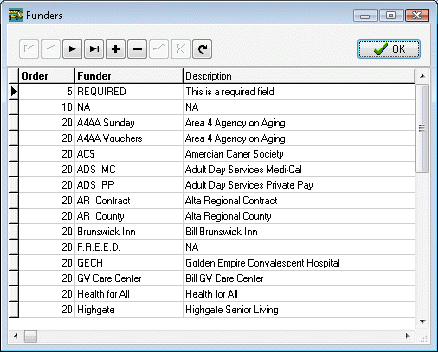 The Secondary Funders table is used for tracking multiple funders. A Secondary Funder may be listed in the same manner as the Funders. The secondary funders are used by the transit system when trip information must be sent to two or more different agencies.
Funder Signatures
If you have Tablet Signature Collection enabled, you can designate how many signatures should be collected per funder. Under Utility go to Admin->Alphabetical->Funders. All the way to the right (scroll a ways) is a column called Num Signatures. You can actually grab the column heading and drag it to the left to make it easier to line up, but to require signatures, you should just need to set a Num Signatures to 1, 2 or 3, depending on the number of signatures you need.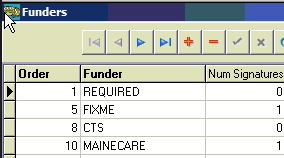 Fare Types
The Fare Types table provides the scheduler with a drop down box of payment choices for the passenger to pay for the trip. The fare type can be printed on the drivers manifest to inform the driver how much to collect from the customer.
Fare Type Options
When setting up fare types, agencies sometimes think of adding in a list of cash amounts. * Cash GP 8.00 * Cash WH/CH 2.00 * Cash Children 2.00
We suggest a simpler approach. There is a field to place the amount of cash to collect. One Cash type is generally sufficient. In the example below the drivers would know whether to get cash from the rider, whether to look at a pass, or whether the driver needs to collect a ticket.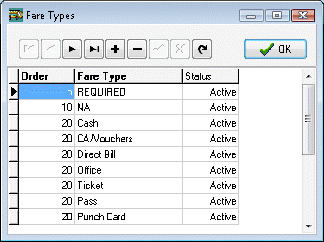 Rate Types
The Rate Types table provides the transit system the opportunity to broker trips. This section provides the transportation manager with a convenient way to detect which sub- contractor can provide a ride at the most cost effective price. Of course the rate type table does not do that by itself, but it sets up the necessary formulas for Easy Rides to calculate the cost of a brokerage trip.
When setting up rate types, list any provider with which you sub-contract rides. If you are not currently sub- contracting rides with any other business or organization you can complete this table as necessary. You may want to gather this information even if you are not currently brokering rides, because it could provide you valuable data to evaluate whether brokering a ride is a cost effective option. In this example, Yellow Cab charges $5.00 to get into the cab and $1.10 per mile after that.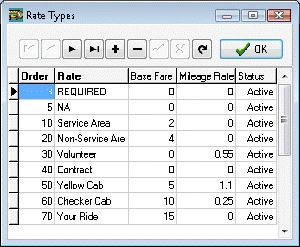 Providers
The Providers table lists the organizations that will be providing rides to transit customers. Frequently a transit system has only one provider– .themselves. If that is the case you will have one listing in your table. You add Providers in the Easy Rides Utilities. Click on Admin, Programs & Fares then Providers.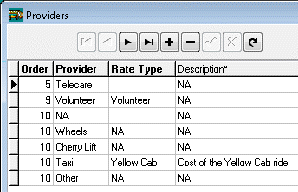 Brokering Transportation
As transit systems expand, brokering trips is sometimes an economical option to meet riders' needs without investing in additional equipment and staff. Systems that broker services may work with one or more providers. Schedulers frequently become "Mobility Managers" because they are scheduling trips across geography and across corporations.
A "Mobility Manager" will evaluate the cost effectiveness of the trip and book the trip with the most economical or appropriate provider. Use the Provider table to identify the different transportation providers which partner with your transportation system. This table enables the user to document not only the rate types that will be used, but the provider address, contact person and other vital information required to make a trip or process a bill.
Volunteer Providers
Volunteer Providers are also included in this table if they provide transportation documented by your system. Frequently volunteers are reimbursed on miles driven and they too need to be set up in both the provider table and rate table to assure that they can be properly reimbursed.
Trip Purposes
Administrators, funders and political bodies all want to know why your customers are riding the bus. How many are going to the Doctor's, shopping or to work. Your thoughts will vary on the degree of separation needed in this field. Should medical trips be grouped, or should they be separated into dialysis, pharmacy, hospital and Doctor? The choice is yours. To Entering Trip Purposes:
From the Easy Rides Utility, click on Admin, Programs & Fares then Purposes.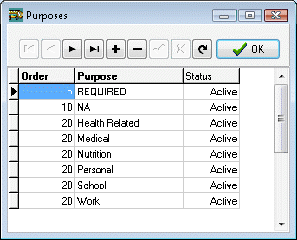 Listed above are just some of the examples used by transit systems. Work would be another good example of a purpose.
Home is never listed as a purpose. Help your staff remember if someone is returning home from going to work, a medical appointment, or child care, their return trip purpose is the same as the beginning trip.
For a video on Purposes click here.