Creating a Day Schedule
Day Schedules are a way to group tickets together under a route heading before you know precisely which vehicle and driver will be assigned to transport the group. Most systems complete their Day Schedules the day before trips are run. They assign drivers to routes and print manifests, so that drivers have the list of clients that they will be picking up the next day. Before manifests are printed, you need to assign drivers and vehicles. You will also need to assign vehicles before the auto-scheduling functions become available. The Dispatch (Schedule) Board is where users visually interact with a specific day's trips, routes and assignments. Before we can open a day on the Dispatch Board however, we must first create a day schedule by clicking the Trip Tickets menu item and selecting "Create A New Day Schedule".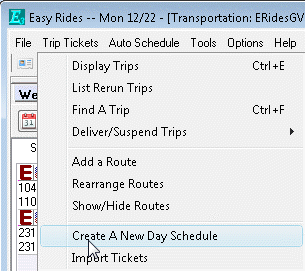 When Easy Rides opens the Create A New Day Schedule form, you will notice that it will look slightly different depending on whether the day has already been created or not. If it has not, the "OK" is active (not grayed out).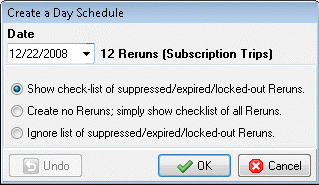 If the day HAS already been created, only the "Undo" button is active and the "OK" button is grayed out (Note: In the event the Undo button is grayed out on a previously created day, you will need to click on the Tools menu item and select "Reset Open Day Counter"). In either case, it will list how many Reruns (Subscription Trips) there are for the date selected.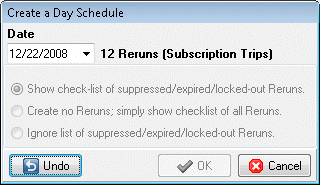 After you select the date there are 3 options to choose from, click the radio button next to the desired option and select the OK button.
Option: "Show check-list of suppressed/expired/locked- out Reruns"
Usually the most desirable option because you can see a reminder of normally occurring Reruns that are NOT going to be created on the selected date, due to expired or suppressed reruns. You may also see that you need to update a Client's expiration status and perhaps extend their expiration date on their Subscription. When the Scheduled Reruns screen appears check the box next to any trips you wish to create regardless of the listed status then click the OK button.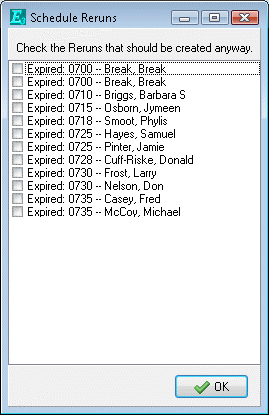 Option: "Create no Reruns; simply show checklist of all Reruns"
Useful if you wish to authorize each and every Rerun for that day, but this could be time consuming. Click the OK button.
Option: "Ignore list of suppressed/expired/locked- out Reruns"
This is the quickest method of creating a Day Schedule but also the most likely to result in errors. For example, if a Client is eligible to ride, but the system has not yet been updated, their Rerun will be listed as "Expired" and the trip ticket will not be created. Click the OK button. The Day Schedule is now created, and available on the Dispatch Board:

Old Day Schedule Tabs
Tabs for day schedules older than 3 months show in red to help keep them from being confused with current day schedules. It is recommended old day schedules be deleted after archiving them, unless necessary.