Route Assignments
Day Schedules are a way to group tickets together under a route heading before you know precisely which vehicle and driver will be assigned to transport the group. Most systems complete their Day Schedules the day before trips are run. They assign drivers to routes and print manifests, so that drivers have the list of clients that they will be picking up the next day. Before manifests are printed, drivers and vehicles need to be assigned. You will also need to assign vehicles before the auto-scheduling functions become available.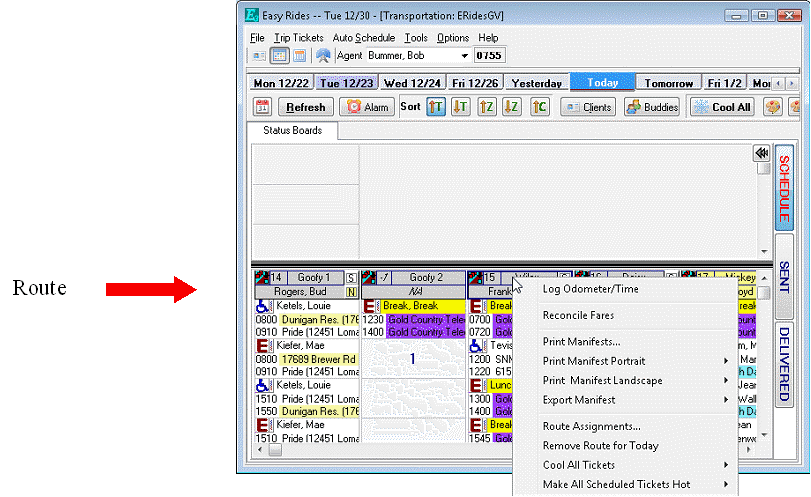 Right clicking on the Route Bar displays a menu but some of the items have been placed right on the Route Bar for easy access.

Clicking the icon in a route field opens a form where you can easily view and make changes to your route assignments. As drivers and vehicles are selected, the lists on the right reflect those still available. Those selected on the left show red text until clicking Apply at the bottom. Removing the checkmark from "˜Hide Assigned' reveals the entire lists of drivers and vehicles in the event drivers and/or vehicles need to be scheduled to run a morning and afternoon route.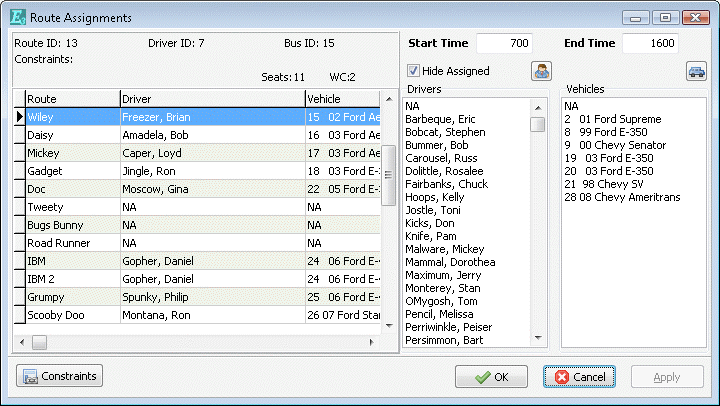 Ellipsis buttons

have been included to allow users to click and view driver and vehicle assignments the way they were displayed in the original forms.