Reconcile Fares
This item opens the "Reconcile Fares for Delivered Trips" form to select a Date and Driver to see what fare box revenues should be accounted for. Reconcile Fares is covered in more detail in Chapter 10 of this User Guide.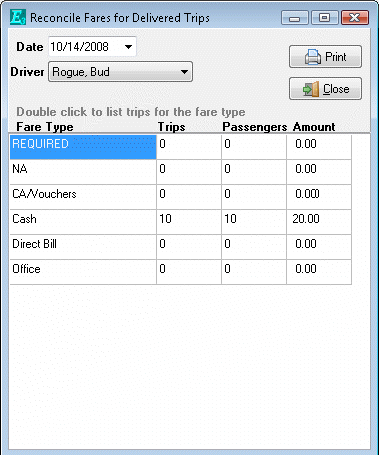 Check Rerun Status
Displays a list of Reruns (Subscriptions) that expired or are scheduled to expire in the number of days you specify. Functionally the same as "List Reruns" on the "Trip Tickets" menu, but filtered for expiration. Rerun Trips can be edited, suppressed or deleted from the results window.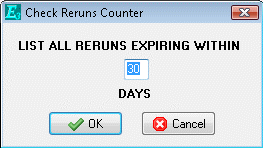 Check Permit Status
Displays a list of Clients whose authorization has expired or is expiring in the number of days specified. Double clicking on a Client or selecting the Client then clicking the "Edit" button opens the Client Form for editing.
List Locked Out Clients
Displays a list of Clients that have a "Lock Out" date that is greater than today.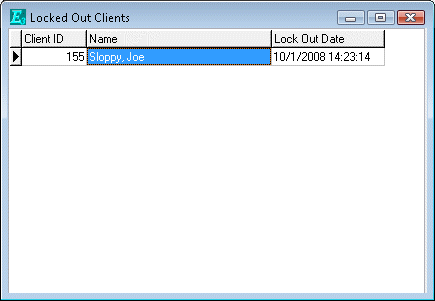 Scheduled-Time Altered List:
Available to systems with Auto Scheduling, this feature makes it easy to contact customers to inform them of time changes.
Easy Ride Reminder
An optional feature is available allowing users to select a list of clients and automatically call them to remind them of their upcoming trip. A customized, pre recorded message is played, with the date and time of their first scheduled pick inserted into the message. A web interface is available to review the outcome of each call. Call 1888-806-6595 for more details.
Addresses
Opens the Address List for editing, which is discussed in more detail in chapter 3 of this document.
Consolidate Addresses
This utility allows you to locate and consolidate duplicate addresses, find non geo-coded addresses and other address maintenance tools. Consolidate Addresses is discussed in more detail in chapter ? in this User Guide.
Update Rerun Addresses
After you have edited, updated or consolidated addresses, it is recommended users run this tool so that Easy Rides will update Rerun (Subscription) trips in the database with the latest information. This tool will not work on "Freeform" addresses that have been manually entered as text into Client files, trip tickets, or Rerun's address fields. "Freeform" addresses refers to the process of typing an address directly into an address field (not selecting one from the address database). To prevent individuals from adding "Freeform" address go to Utility, Global options, and check "Address Select Only" option. This will greatly enhance the functionality of Easy Rides and maintain data integrity.
Review Trips by Trip Note
This option allows you to search by trip note instead of the customer last name.