Understanding the Trip Tickets Menu Bar
Display Trips:
This item displays a list and count of trip tickets currently existing for a day and time period of your choosing. Use the calendar form to select the date and if desired fill in the time fields then click the "Go" button. Once the list is displayed, you can sort the list by Client Name, Route or Pickup Time by clicking on the buttons above the columns at the top of the form.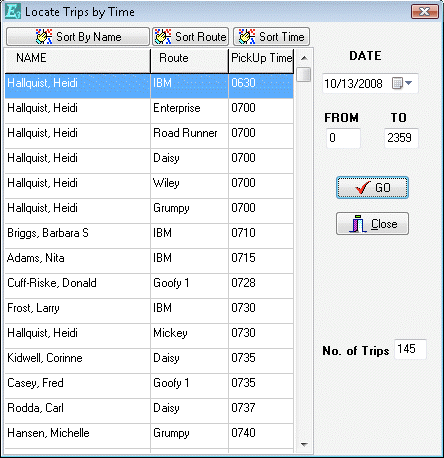 List Rerun Trips:
Selecting this item displays the list of Long Term Rerun (Subscription) trip tickets currently existing. Displayed information includes Client Name, day of the week the ticket is to be created, Start and End Dates of the Subscription. You can search for a client's rerun by clicking into the "Search by Last Name" field. The list will scroll to and highlight the closet match to your typed text. When you see the desired Rerun, click once anywhere in that row to select it then click on the "Edit", "Supress" or "Delete" button as needed. Double clicking on a row (rerun) will, by default, open the "Rerun Trip Form" for editing.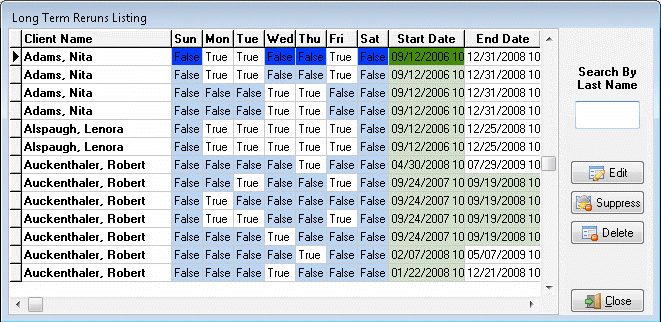 Find A Trip
Clicking on this submenu item will display a list of all trip tickets in the Current (Open) Day Schedule ordered by client name. Double clicking on a Trip Ticket will open the Trip Ticket Form for viewing or editing.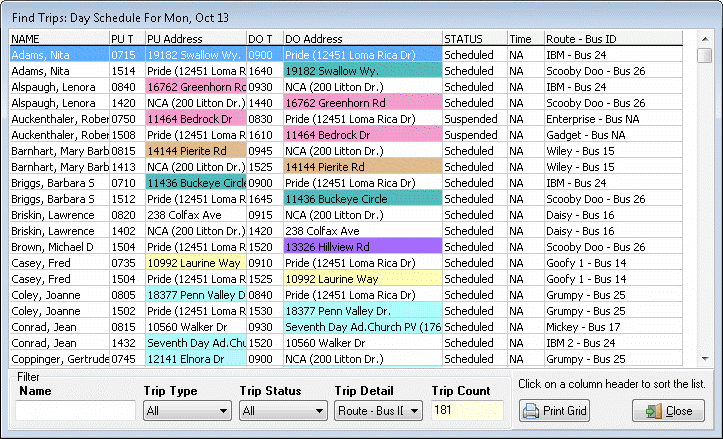 Deliver/Suspend Trips:
The Deliver feature allows for handling groups of tickets. Suspend Trips removes trip tickets from the Dispatch Board for later handling. Additional details are provided further down in this document.
Add a Route:
Clicking on this menu item will display a list of routes available to be added to the current Day Schedule.
Rearrange Routes:
Selecting this menu item will open the Arrange Route Form which allows you to delete or change the order of routes on the Dispatch Board. This option is good for deleting routes that are not going to be used on a day schedule and affects ALL users.
Clearing the checkbox from the Arrange Route form, will delete the route and cancel trip tickets contained in the route. Clicking and dragging a route allows you to change its position on the board.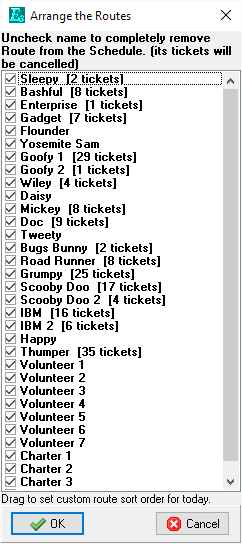 Show/Hide Routes:
Show/Hide Routes can be used to hide routes that you don't need to see right now but might need later and other users might still want. The setting is saved in the Easy Rides Agent settings and shouldn't affect any other users or Agents.
This menu item looks very similar to the Arrange Route Form. Clearing the checkbox will hide a route, clicking a blank checkbox will enable a hidden route to be displayed.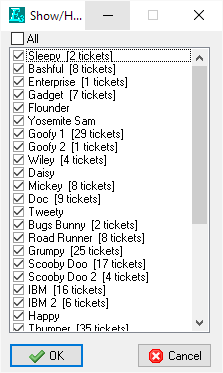 Route Parameter Replication:
(Easy Rides Basic or higher) Selecting Route Parameter Replication allows a user to set a day schedule with the same drivers, vehicles, times and constraints as another day schedule.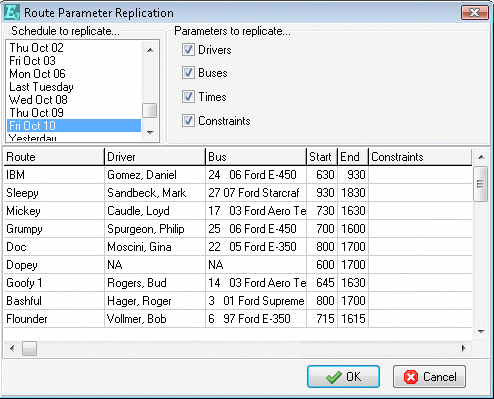 Create A New Day Schedule:
Selecting Create A New Day Schedule allows you to create a new day schedule on the Dispatch Board. How to Create a Day Schedule is covered in more detail further down in this document.
Import Tickets:
An optional tool to allow importing of trip tickets from other software. Please contact us at 888-806-6595 for more info.